Thursday, June 16th, 2011
4
16
/06
/ June
/2011
22:20
I am going to say to you the truth...
Nursery assistant, it is not that that I wanted to make at first...
What girl wants to be a nursery assistant openly(frankly)?
You? Either you???
Not eh....
When I was small, at first, I wanted to be veterinary, then later I wanted to be learned, scuba diver on Calypso with Cousteau and his(her,its) red hat(cap) (but I knew not that I was still seasick in the time(period)), later, I wanted to be road, Prof. of bio and then Prof. of English also and then international reporter also (voui, you at the bottom(in fact), you can look at my slippers and at my rolls and have a good laugh, prevent that it's true!), later, I wanted to be a florist also and to have my store and then in the truth, ben I became a cashier and when I was a mom, I took the post of the decorator of the hyper where I worked, until I move in Normandy (there where the sky is grey with a lot of rain all the time and Norman everywhere even my son, he(it) is Norman of birth moreover!).
There, I became chomeuse then housewife in the home(foyer) on parental leave and housewife under 50...
When I stopped being a mother on parental leave and when he(it) has needed that I work again, I found a place(square) in the business and my children were very unfortunate because they had never left me like that during the day and because to get back a mom tired on his(her,its) day after 19 hours, 4 evenings a week it was not funny. Besides, that fell well because, even if I liked to see people and to chat with them, I did not get with my bosses and I eventually negotiated my redundancy(dismissal)....
And I became again chomeuse made feel guilty to death to have abandoned(given up) his(her,its) brood...
And there, I decided to keep(guard) the children of the others....
Because in the truth, I wanted a 3rd but because Darling did not want and that finally it is him who was right...
And that that allowed me to stay with my garden gnomes while working and by returning a salary...
My first young, he was called Martin, I did not keep(guard) him(it) for a long time because they moved and I not ais more seen again(more revised) by the whole of the whole.... At the same time, there was Sarah that I kept(guarded) during pffffff a moment when I moved for Savoy, with his(her) mom, we were in tears in my cooking(kitchen), we a little kept in touch, I know that she(it) has a younger sister and then the life continued and we lost sight.
She(It) is going be 11 years old this year it is a baby of the year 2000.
Later I arrived here and we confided(entrusted) me the other babies who moved...
Or then it is me who moved...
Or then, that did not walk(work) between the relatives(parents) and me....
Because that also that counts....
And then in all these families of which I welcomed and loved the children, some went out of the "prize"("lot").
One in particular...
A mom and her 2 small rabbits...
A mom which(who) over the years is crossed(spent) by employer's status in that of friend....
And his(her,its) 2 small rabbits which are at home as at them resuming(taking back) their pet ways as soon as they return here...
I thought of it for a long time yesterday...
Having been called at 6:00 am of the morning to be in the awakening(alarm clock) of the small rabbits there while their younger sister appeared.
Having been in the awakening(alarm clock) there of the youngest and to have explained him(her) that " Mom is at the hospital, your younger sister is arriving, this kept silent evening will be an older brother " and to have seen his(her,its) big smile illuminating the face.
Having returned everything them 3 for 8 hours because " the girls are going to arrive ", have fetched newspapers all together by chatting of height of things but especially the baby who arrived, having made a stopping place for the slide, but not for a long time because it is really too much warm outside and because 2 small rabbits burn with envy(urge) to visit Papie to announce him(her) the good piece of news(short story) (that he already knows but it is better when it is the small rabbits which announce it!)
I thought of it after everybody left, before noon(south)...
While the flea(chip) came into the world
I rethought about all human being's small ends that I saw quite small youngs, that I knew while they were not even still born, when they were for the warmth in mom's stomach. In all this unconditional love which they gives me, in this confidence(trust) which they have in me, in the relations which I have with their relatives(parents), with their family... I rethought about all madmen-laughter and these wiped(suffered) tears, these blown noses, these child's remarks which make us roar to laugh in the angers also, of those who make you crazy so they are strong and lightning. I rethought to everything those who left me for the other more green parts of the country or simply because, Christine, sometimes, Dad and Mom do not support(bear) her(it) and because they prefer to go to see(to visit) somewhere else if the grass is more green (I do not criticize eh, I admit to be sometimes little bearable and to have I the same envy(urge) of shuts the door in the face to me and then finally I become reconciled with me even and everything goes for best the advantage to live with one even permanently, it is that in the long run we cannot leave any more)
In brief where I am? Ah yes, I thought again about the full coats(layers) and about the small nice-smelling dismissals and then about the big - calins.... I thought of it all day long while this small flea(chip) arrived.
And then at the end of the day, the mom phoned me me to give news, me tell the pains and then the delight, his, that of the quite new dad and older brothers and then to thank me for having been the morning there (well, no it is normal, we are friendly yes but all the same go, not there after you, I would make nothing

) And ask me to cross(spend) or tomorrow on Friday because that would please him(her)....
" Yes I too, but do not want to disturb, there are moments when we want to live between us, in family, his(her) man, his children and the newcomer "
And hear me
" Yes but you too are a member to you of the family "
Feel(Smell) the throat(breast) being formed and tears pour(flow,sink), because even if we already have him(it) to me say several times, that take at this moment there a completely different dimension.
Then, well, yes, nursery assistant, it is not what I had planned to make, no girl thinks of it when she falls later....
But finally, ben I believe that the job(business) chose me and that nothing that for moments as those there, I do not regret him(it)....
Yes, I rale after an anger or a coat(layer) which poured(flowed,sank)....
But rocalins and kisses, and friendship (the true friendship I want to say, not that there) well, er it is one of favor in which one(which) I would not give up whom(which) I do not want to give up...
Because for me, they are precious moments....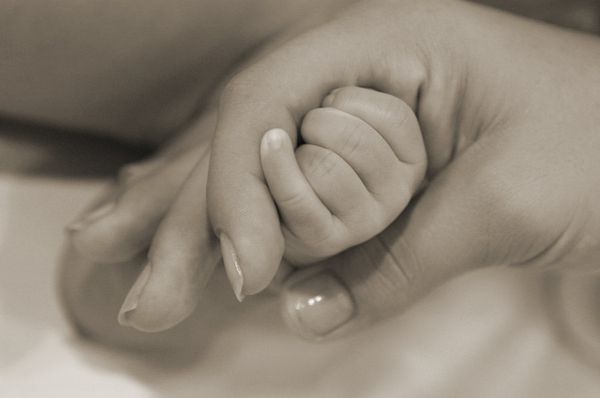 Credits photo Stockproject1 on DeviantArt