Monday, October 13th, 2008
1
13
/10
/ O

ct
/2008
10:36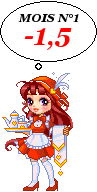 Yes, I know some people will say, it is not very a lot.....
But it is necessary to have quite elements in hand...
1 cms around the tin
2 cms around thighs
0,4 % of fat mass
In conclusion, the first month, in spite of its appearance is not negative that does not go fast, certe... BUT, I lose of the fat mass and not the muscle and it is what what is important....
We continue on the same base and I have a formal ban on my dietitian to weigh myself during all month, the disordered balance which yoyote
and pushes(depresses) me, it is not good for what I have!!!!!