Wednesday, June 16th, 2010
3
16
/06
/ June
/2010
14:38
Well then already méa culpa, méa culpa maxima...
I a little many) forgot the round I do not even look for excuses, I not have no it.... I apologize thus quite to Françoise and I advance(move) of a step....
The subject of the week 4 last week thus was the wood....
All this become harder and harder it is without counting the small fairies of wood that enjoy putting on my road of the unusual little gifts.... Even more need to dig me the head to find ideas....
Here they are who(which) played to draw a funny head by the roadside towards the school....
Band(Strip) of funny goes....
And the nose it is what????
Go, me does not make you languish....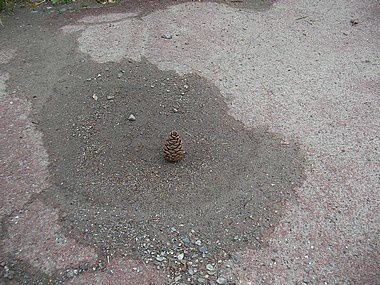 A pine cone it is some wood not????
You see it the face??? A big smile for a grey day, a rainy day....
It is not beautiful that?????
Of the straight(right) branch, I hold the hand ofAnnyOf the left(awkward) branch, that of Cricket....
For the continuation(suite), I find you very very fast....
Needs that I update!