Monday, September 14th, 2009
1
14
/09
/ frog
/2009
19:05
Well, we are going to say that it is parceque it is soon that I would have one year more and that I want to return towards 1970/1978..... In the time(period), my Mom (voui, still her(it), but there, she(it) had returned.... Mom, if you read to me, I loves you hardly you know!) learnt me the hook... She also learnt me to knit but I preferred the hook. I got back everything the books of points bizarre as much as strange who trainait at the house and with my friend of time(period), Patricia, we began picking as lunatics everything the woolen ends who had the misfortune to cross our road were transformed, as if by magic, into small squares full of colors more or less good matched but so beautiful for us....
I found my hook last year when I discovered amigurumis.... There was a taste of novelty mixed by childhood, something undefinable but not bad of the whole.....
Last week, I trainais of blog in blog and I fell here. Z' saw the name???? Grannymania.... Granny, it is a grandma it is the hook of the grandmothers hey!!!! Wait, chui not grandmother I!!!! How? It is just the name to indicate(appoint) these little gifts picked charmingly kitsch, with a flavor of childhood inside? Ok!!! I say nothing more, I have more that to keep silent about me. Prevent, I rereleased my cotton sons(threads) (those with whom I wanted to make vegetables and which have so beautiful colors) and I had fun a part(party) of the weekend.
That is what that gave(looked)...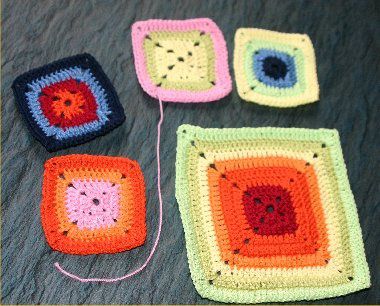 I saw a model made with a lot of small more or less big squares inspired by the patchwork of Kaffe Fasset (I have the book below, I know which one(which) it is, I always wanted to make him(it) in fabrics(tissues) without daring to throw(launch) to me I am going to pick him(it)). A blanket Babette that is called.... At the moment I have fun.... I make random(unpredictable) marriages with the colors which I have I believe that I am just going to add a little mauve(mallow) later I would make Babette's blanket and I could envelloper me inside to be hot the winter when then, just I would put her(it) on the back of one of the sofas to make attractive top with heights of colored and cheerful colors.... Voili
....